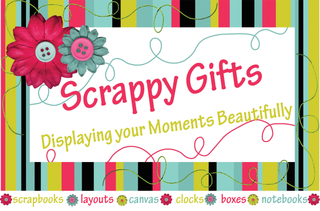 Need creative crafty gifts for family, friends, or for yourself? Don't have the time to make a crafty gift or to scrapbook? Let me help you! I specialize in making scrapbooks: everyday scrapbooks, calendar, baby and wedding scrapbooks , guest books, scrapbook layouts, and creative gifts: scrappy canvas, clocks, and boxes. I can make any of these gifts: you choose the colors and what you want. All you have to do is add your pictures cut to size or pay me to add your pictures for you.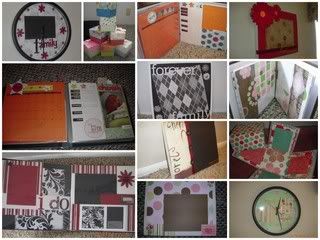 Love to scrapbook and need ideas?
Share your ideas with others! Check out my link party: Scrappy Saturdays. Doesn't just have to be scrapbook layouts; it can be altered items, cards, mini books, etc.
Need to find time to scrapbook more? Get motivated and join in on my Online Crops at my Blog Frog Community to get some of your scrapbook projects done. Prizes, Games and Challenges.